Our medium- and high-voltage transformers are used in the fields of traditional power generation and transmission, power generation from renewable sources and industry.
Thanks to decades of experience and collaboration with Italy's leading transformer manufacturer, we guarantee maximum reliability and a long service life for the machines we supply, thus securing our customers' investments.
We are able to satisfy every type of request thanks to a range of transformers that goes from 10 to 800 MVA / 500 kV and custom designs developed to provide the most suitable solutions for the customer's needs.
Thanks to a 420KV testing room with testing capacity above 500 MVA and impulse voltage up to 2000KV, the transformers produced are highly reliable.
On an industrial level, we manufacture various types of devices such as furnace transformers, reactors, transformer-reactors and power transformers.
To complete our offer we provide 24/7 service on any installed machine.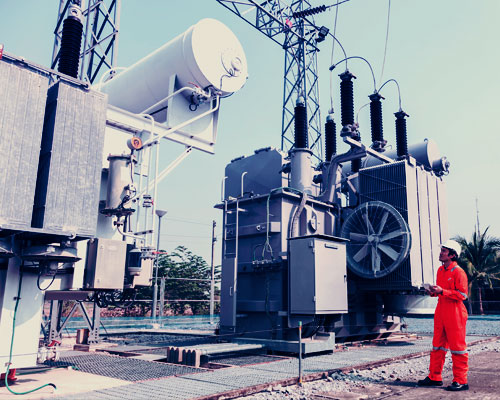 GSU (Generator Step-Up) transformers
Power: up to 700 MVA
Voltage class: up to 550 kV
Mains Transformers and Autotransformers
Power: up to 700 MVA
Voltage class: up to 550 kV
Phase-shifting transformers
Power: up to 1800 MVA
Voltage class: up to 550 kV
Contact us
Latec srl is available to listen to your needs and to provide products and services tailored to your real requirements.

Contact us to arrange an appointment.